Welcome to the Music page.  
This page will be regularly updated to showcase all our musical activities at Pool.
Pool Choir on Tour
The children loved performing today at the Otley Action for the Elderly's Christmas Lunch at Wharfedale Court.  Twenty-six children sang to, and mingled beautifully with, the people at the lunch. Well done, Choir!  Mrs Lowe was very proud of all of you!
On Tuesday 4 December 2018, 10 children from our choir participated in the LSMA Festival Concert at Leeds Town Hall. It's a wonderful experience for the children and their families and starts off Christmas with a bang!
Well done to Holly, Anja, Livie, Harriet, Lucy, Emma, Sophie, Florence, Iris and Emily who worked hard during the rehearsals and sang their hearts out at the concert! Huge thanks to Mrs Lowe and Mrs Di Palma-Heath for giving up their own time to accompany the girls to the dress rehearsal and the concert itself.
Otley Victorian Fayre 2018
A fantastic performance by Pool Choir at Otley Victorian Fayre.  Twenty-two children from Years 3,4 and 5 performed. The children sang brilliantly both accompanied and unaccompanied.  Well done! Thank you for all the support from parents, grandparents and friends also!
Another wonderful night at the LMSA Festival Choir Concert (Leeds Town Hall).  Well done girls!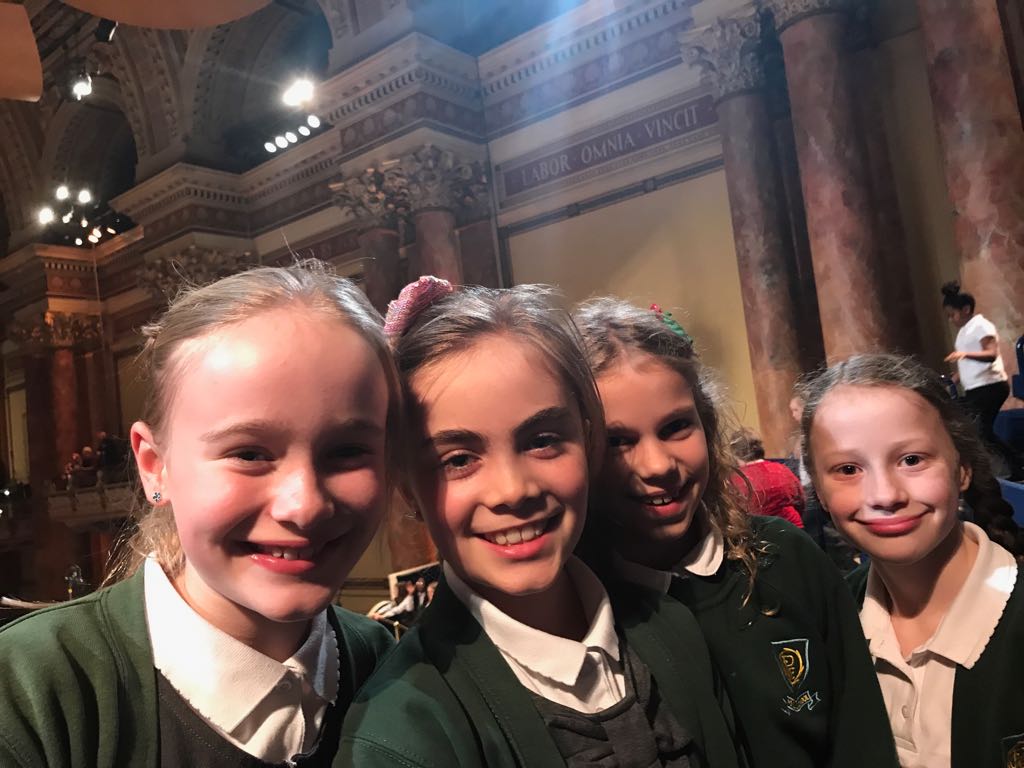 Thank you for participating in the Christmas Concert at Leeds Town Hall
We had a fantastic time performing at Otley Victorian Fayre.  Thank you to parents for bringing your children... and children -you were brilliant!  Definitely the best performance from Pool School yet!  Everyone who was there was very proud of you, particularly Mrs Lowe!
Pool School's Musical Innovation Project
In 2017, Pool secured £500 from the Leeds Music Education Partnership for a Musical Innovation Project.  Firstly, this money was used to fund a day of interactive musical concerts with Maia, a folk rock band, on 26th May. Every class participated in one of four concerts throughout the day.  Activities included learning songs, actions, focusing on rhythm and learning about instruments. All classes had a fantastic time, shown by the enormous smiles on the faces of the children.  The remainder of the money was used to purchase 15 glockenspiels to be used specifically for the BBC Music Day concert below.
BBC Music Day - An amazing whole school concert
On Friday 9th June, Pool School put on a fantastic musical concert.  We started by singing a school favourite, 'We Will Rock You' by Queen. Then every class performed their own compositions based on one of the BBC Ten Pieces.  
Each response was unique and the children demonstrated that they had carefully thought about the pieces and focused on particular musical skills e.g. Year 1 focused on pulse and rhythm,  Year 6 on creating melodic ostinato (repeated melodies), Year Four focused on creating rhythmic ostinato (repeated rhythms).  
As part of the concert, we announced the poster competition winners. Thank you to all those children who entered.  Mrs Fox had lots of posters to chose from.  Well done to Caspar in Year 1 and Alice in Year 6 who were winners!
As we left the hall we sang 'Thank you for the Music' - a fitting end to a wonderful concert! There are some extracts from the performances below.  These have been edited due to size.
Casper and Alice's winning entries!
We Will Rock You
Reception - Hall of the Mountain King
Year 2 - Firebird
Year 3 - Firebird
Year 6 - Mambo from West Side Story
Pool Choir does the school proud!
On Thursday 16th March 2017, Pool Choir performed at the Otley Chevin Family of Schools Musical Extravaganza at Yeadon Town Hall.  The children performed three numbers:  Price Tag, Let it Be and Happy.  They were note perfect and a joy to take as their behaviour was so brilliant!  This was the first concert for many of our younger members.  Well done, Choir!  We are very proud!  If any parents have any photos we would love a copy.
Christmas 2016 was very busy for Pool Choir this year.  We performed at the School Christmas Fair, Otley Victorian Fayre and Otley Action for Older People's Christmas lunch at Wharfedale Court.  Though we were a small group at the Victorian Fayre, it meant the children could have a microphone each and the man organising the sound said we sounded brilliant! Mr Lowe said it was our best performance yet....and he has to go every year!
On Tuesday 6th December, eight children from Year 6 joined approximately 350 other children in Leeds Town Hall for a Leeds-wide Christmas Festival Concert.   As always, it was a very Christmassy event! Our Year 6s sang brilliantly and behaved amazingly.  Mrs Di Palma-Heath and I were very proud.  'Saviour's Day' was a particular highlight!
Mrs Lowe
Music Leader
Thank you letter - LMSA Leeds Town Hall Concert - December 2016
Behind the scenes at the Leeds Schools' Music Association Christmas Festival Concert 2016
Are you looking for local music lessons?  The Yorkshire Music Education Service could help!  A link is provided to the website below: